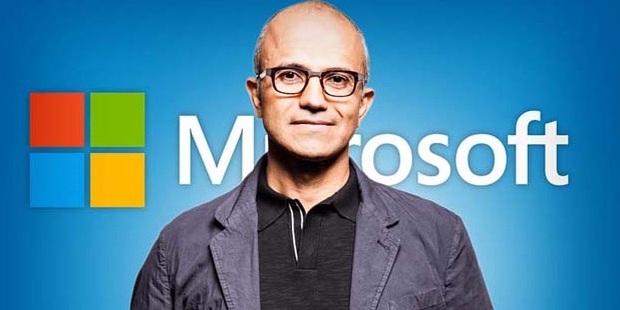 SAN FRANCISCO – Microsoft CEO Satya Nadella used his company's annual developers conference Wed to caution developers that they use their capabilities once and for all and build systems that steer clear of the dystopian predictions of authors George Orwell and Aldous Huxley.
"The chance for developers to really have the broad impact on all elements of society hasn't been higher," Nadella, a former Microsoft engineer, told 5,500 developers assembled in the city's convention middle hall. "But with this opportunity comes tremendous responsibility."
The CEO added that he considered himself "a tech optimist, (but) there are unintended consequences of technology," consequences that will not be solved by technology itself but only by its creators.
"Orwell, in (the novel) 1984, described a society where technology used to check, control, dictate, and Huxley (in Brave " NEW WORLD ") discussed distracting ourselves without meaning or purpose," he said. "We don't want that."
Nadella's warning comes at the same time when digital masterpieces are increasingly misused or hijacked, whether that's suicides and murders loading on Facebook Live or the proliferation of fake information.
Beyond the effect on users, horrified by violence, concerned about copycats, and puzzled by distributed fake information broadly, the pattern threatens the livelihood of technology giants that rely on advertising dollars.
Facebook and Google have pledged before weeks to boost their monitoring of content to be able to avoid such occurrences.
In Google's case, it was giving an answer to an advertising boycott of Alphabet-owned Google and YouTube after a newspapers showed corporate advertisements frequently surfacing on racist, terrorist or other unpleasant content.
Inside a seeming nod to the nagging problem, Microsoft announced at Build it had created a fresh video indexing product that leverages cloud computing capacity to scrub videos for voices and feelings in order to identify offensive content.
Those computing smarts reflect Microsoft's effort to evolve from lumbering software license-based company to a nimble enterprise-focused business.
On stage, Nadella mentioned 90% of Fortune 500 companies use its Azure cloud (though Amazon Web Services still dominates the area) and 500 million devices now run Windows 10 software (which is up from 400 million last fall).
The company's stock has been pushing all-time highs, despite a recently available earnings report that noted a 26% drop in income from sales of its Surface tablets, showing that Microsoft finds hardware vexing still.
The business's failed $8 billion acquisition of phone handset manufacturer Nokia remains a minimal point.
Together with his caution, Nadella also touted the exponential and imminent marvels of ultra-connected workplaces and health-oriented breakthroughs.
Focusing on the cloud and AI-powered future intently, Nadella, who's 3 years into working Microsoft, introduced a live demo featuring construction workers on a working job site.
Using cameras driven by image-recognition software, both employees and their various tools could be recognized and tagged by Microsoft's software.
The basic idea is that alerts can be delivered to any smartphone running this workplace app, alerting personnel to from potential workplace risks to the positioning of the needed tool.
Nadella likened the approaching trend to your ability, 20 years ago, to start searching the expansive web for targeted information. Only in this near-future situation, sensors linked to artificial intelligence must allow us to search physical spaces.
"All accidents at work could be prevented if you could identify anomalies before they happen," he said. "That's the impact we can have."
To come at Build still, which runs through May 12 are presumably updates on the company's efforts with chatbots and mixed reality, both which take high priority as Microsoft looks to remain competitive with rival advancements on both fronts.
While Microsoft's pioneering, self-contained combined reality device HoloLens continues to be a developer-only tool costing $3,000, a new type of $300 tethered devices from partners Acer and HP are likely to continue sale soon.
Microsoft also used Build showing how it is currently pushing into the at-home personal assistant market dominated by cross-town rival Amazon using its Alexa-powered Echo, which includes challenged by Google Home and its Google Assistant recently.
During one of the Build demos, staffers spoke to a fresh tower device called Invoke by Samsung-owned Harman Kardon, which is run by Cortana.
Despite Nadella's starting nod to the dark part of tech, he thought we would cap his part of the keynote with a salute to its redemptive promise.
A video played that showed what sort of Microsoft researcher had created a watchband that could interrupt the circulation of brainwaves between a Parkinson's sufferer's shaking hand and her brain.
By stilling the arm, the individual found she could attract with steady hands. When it finished, the researcher brought by him and her patient onstage to applause.
"Many thanks, both," the women were told by him. "We've both a chance and a responsibility as developers. And an impact can be had by us."
Follow Us On: